May 2020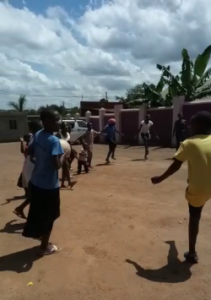 The link below will take you to the latest newsletter.NHfA Newsletter May 2020
February 2020
The link below will take you to the latest newsletter containing information about forthcoming events and pictures of Christmas day celebrations at the school.
December 2019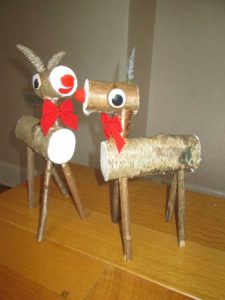 Charlie's Reindeer Shop is now open at The King's Church, Thornton. Once they have gone they are gone.
A minimum donation of £5 will secure a hand crafted reindeer. All proceeds will be used to make Christmas Day a little special for the children who live permanently at the school.
Thanks to Charlie for all his hard work in making the deers and supporting New Hope in this way.
November 2019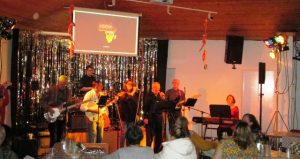 The Price is Rice event on 15th November raised over £1900, ( late donations are still coming in) and this will be used to buy rice and if possible, other more nutrious food ingredients in Uganda to help improve the diet of the schoolchildren.
Thanks go to everyone who came along, to the new line up of Eddy and the Parotts and to those individuals and local businesses who provided prizes for the raffle. Not forgetting those who provided and served refreshments during the interval.
For those who thought they were coming to play the 80's TV game The Price is Right, there was an opportunity to relive the game in the interval thanks to John M.
October 2019

T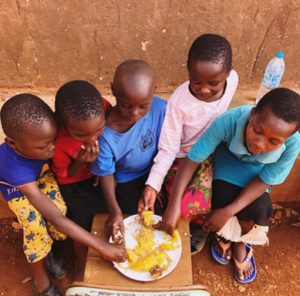 he link below will take you to the October newsletter which contains information from the Annual Review and also the visit to the school in August.
August 2019

A team of four, led by Maxene Kidman spent 10 days at the school this month, mainly to obtain new photos and letters from sponsored children to give to their sponsors. They take with them 305 T shirts, 84 pairs of shoes and £2856 from voluntary donations which they will use to benefit the school children and also some of the poorer families in the village. Further details will appear in the October newsletter.
June 2019
A big thank you to everyone who took part in the Quiz Night and to our QuizMaster John Morrin. The evening raised £675 which the team who are visiting the school in August wll take with them.
Also this month the ladies of Christ Church, Aughton held a Midsummer Night social and they donated £350 to the work of New Hope. This will be used to provide AfriPads, which are washable feminine hygiene products for the teenage girls at the school.
April 2019
The trustees would like to thank Mark Thorpe and his team from the Merseycare NHS Foundation Trust who recently took part in a Dragon Race on Liverpool's Albert Dock to raise money for New Hope.
 The team completed a 6.5 mile sprint in their Dragon Boat in 58 minutes beating the current world champions and raised £230 for New Hope. Well done to the team and a big thank you to everyone for their donations.
March 2019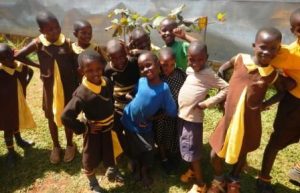 Please click here to read our latest Newsletter
October 2018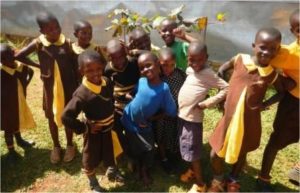 NHfA Newsletter October 2018
September 2018
Tribute to Annet Kayongo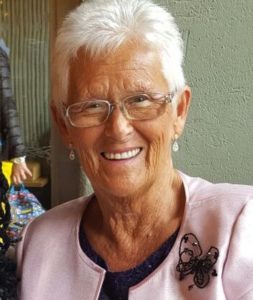 A tribute has been paid to Annet by Gill Gifford who along with the late Jean Swain established New Hope for Africa (UK) following their visit to Kampala.
Jean Swain and myself first met Annet Kayongo in the early hours of August 28th 2004. It was our first trip to Kampala, our suit cases were lost, we had no night-wear and it was 3.30am!  But even then Annet welcomed us to her home as if we were her own family, providing us with night-wear and even clothes to preach in the following day!
         I had come with £1000 as a missionary offering from my Conference and as Annet shared her testimony and vision for New Hope, God confirmed this was His idea, it was a true Kingdom Project that the Holy Spirit wanted me to sow into. Since then many have sponsored children and the Kings Church have supported this faithfully over the years as New Hope became a Charity. It began with just 25 children when Annet took in the most vulnerable and needy children until we are now about 600 children. But to Annet, each child was her own precious and special child and to them she was: "Mamma Annet" She could never turn away a needy child and we quickly saw the love of Jesus in action in a most beautiful way.
Not only did Annet give her heart, resources and love away she was the Visionary for New Hope to which she was totally committed. I have shared over the years her sorrows and tears, held her in the numerous challenges and we have hugged each other in some of the joyous moments. Over many years I have seen her personal bravery as she battled against the returning cancer time and time again.
Annet was a woman of excellence in every way, a role model, not only to the children of New Hope, but to everyone in the community around the Believers Church that she founded. Sometimes she was so tired yet always she was determined to take food, supplies and clothes to the desperately needy in the Bush nearby to  New Hope. Annet made time for everyone and to show the love of Jesus to them.
              Annet Kayongo was my beloved friend, sister-in-the Lord, and became my family in Uganda. There could never be enough space to mention all the extraordinary kindnesses she did for so many. I can think of no better tribute than to say: Annet you fulfilled your calling as the Bible says in Proverbs 31: 28-31.
              "Her children, son's and daughters, rise up and call her blessed and her husband Godfrey,  speaks of her in glowing terms. There are many valiant  and noble ones but you Annet excel them all. This virtuous woman lived in the wonder, awe and the fear of the Lord. You will be praised throughout eternity. Annet you were a radiant woman beautiful inside and out, a woman and all your loving works of righteousness deserve to be remembered and admired. Your legacy Annet lives on in New Hope. Well done good and faithful hand-maiden of the Lord." I loved you in life…and I love you in eternity…..Gill Gifford.
September 2018
It is a cause of great sadness that Annet Kayongo has died on September 1st. In recent years she had made several trips to receive treatment in the USA, but this did not halt the progression of her illness.
Towards the end of her life she was cared for at home and her funeral was held in Uganda on Monday September 3rd.
Annet was the executive director of the New Hope Foundation, director of New Hope Schools and Senior Pastor at The Believer's Church in Nantabuliriwa.
She was a true woman of God and has left a remarkable legacy. Hundreds of vulnerable children have been cared for and educated at the school she established and through her actions she demonstrated to others something of the love of God that she had experienced in her own life.
Our condolences go to her husband Godfrey, her children Barbra, Lydia, Robert, Roger and all of her family.
The work of New Hope for Africa will continue and we look forward to the many exciting things that lie ahead.
NHfA(UK) will be holding it's Annual Review and Cream Tea at 2pm on Saturday September 22nd at The King's Church, 2 Drummond Road,
Thornton, Liverpool L23 9YP. During the afternoon there will be a financial report detailing how donations have been spent along with a presentation of what was achieved during the recent team visit to the school in early August.
August 2018
The photographs are of Lewis Troughton completing a 10km Charity run in which he raised £155 which was donated to New Hope. Well done Lewis and many thanks for your generosity.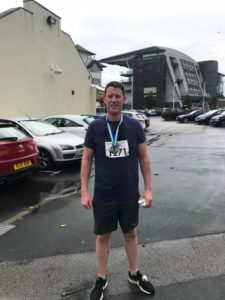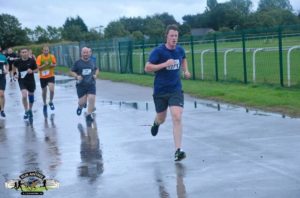 May 2018
A big thank you to everyone who supported the table sale at St Andrew's church , Leyland on May 12th. Of the monies raised, it was shared equally between New Hope for Africa and the work of the New Tribes Mission in Mexico.
Once again a massive thank you to everyone who contributed in any way to our fundraising event on April 14th. The final total for the money raised was £2914, which is amazing, and will be used to improve the healthcare provision at the school.
Message from Godfrey " Annet and I have been over whelmed to hear how much did come from the fundraising, let all the glory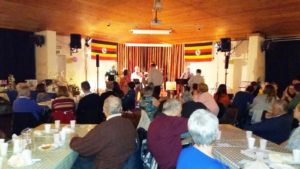 go back to the Lord. Annet came out of hospital two weeks ago and she is improving steadily, right now she can walk without being helped and she can eat a little soft food. On Monday 23/4/18 she will resume chemotherapy treatment which is supposed to take two months".
So please keep praying for Annet  and Godfrey, they need your prayers.
The latest Annual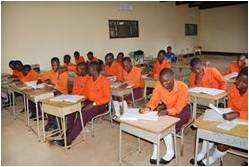 Trustee Report including the most recent set of accounts can be found at the UK Charity Commission website by searching for the registered charity number 1125726 or by clicking on this link. NHfA (UK) Trustee Report
April 2018

If you have family or friends in the U.S. who you think would be interested in supporting the orphanage, check out our sister organization 360 Vision for Africa. We have been supporting their efforts over the past 6 months to launch a child sponsorship program for the New Hope for Africa Community Development Foundation school and orphanage in the U.S. It's now ready, and people can sponsor online. You'll find details at www.360visionforafrica.org.
March 2018
Please click here for the March 2018 Newsletter
October 2017
February 2017
September 2016
Please click here for the September Newsletter
March 2016
Please click here March Newsletter
February 2016
A Questions and Answers interview with Annet Kayongo at the King's Church, recorded February 5th 2016
October 2015
Please click here October Newsletter
September 2015
From the Trustees of NHfA(UK)
It is with deep sadness that the trustees of New Hope for Africa (UK) wish to inform our supporters about the loss of the founder and chair of the charity. Jean Swain died earlier this week following her 18 month struggle with cancer.
Jean set up New Hope for Africa (UK) over 10 years ago following her first of many visits to Uganda. On this occasion she was overwhelmed by the need for disadvantaged children and young people to receive a good education as it is a stepping stone out of poverty. Returning to the UK she sought support from her local church and began collecting voluntary donations to pay teaching salaries at the New Hope Foundation school and orphanage in the village of Nantabulirirwa which is situated outside Kampala. Over £200,000 has since been raised from your generous donations to support New Hope.
Her drive and passion for this work has seen the teaching staff grow in number and now over 500 students benefit from a good education. The generosity of our supporters has not only ensured the teachers are paid regularly but has also resulted in major improvements to the infrastructure at the school.
Jean has been an inspiration to us as trustees and many other people and her leadership of the charity will be greatly missed by a lot of people in the UK as well as Uganda.
The trustees look forward to continuing the work that Jean started. We will continue to raise funds through regular donations and events, such as the Cream Tea event this Saturday 5th September at The Kings Church, Thornton at 2pm – and we look forward to welcoming our supporters.